Hush Little Baby – it's Not Even Born Yet!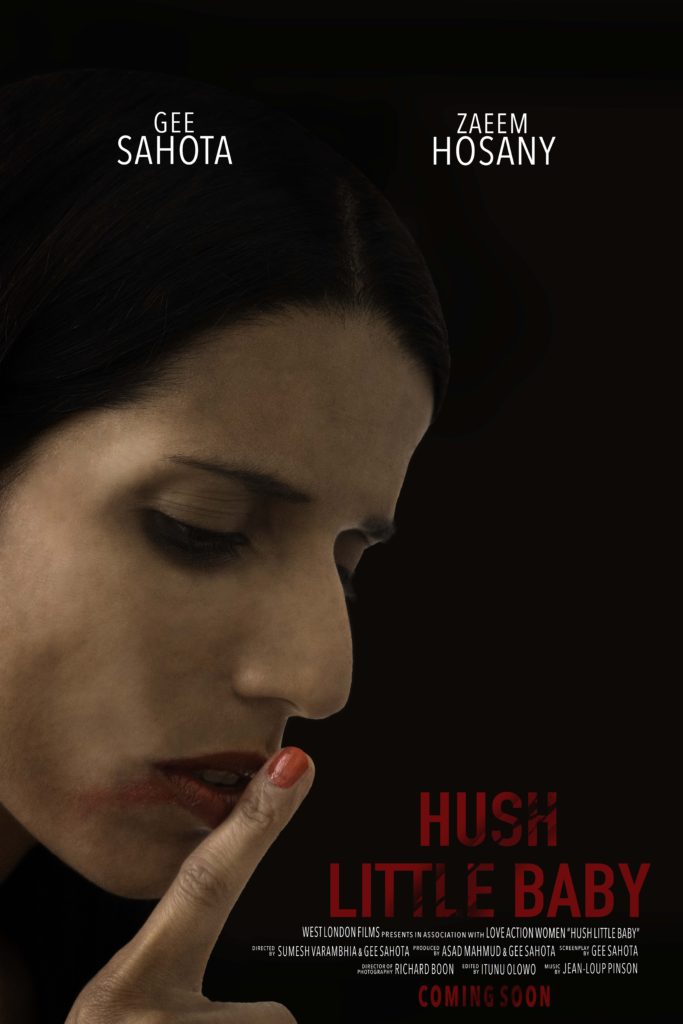 As posted on Facebook on 24th October 2019
How on earth do you put a positive spin on the 3 year anniversary of your first ever film being shot (as writer, producer & one-off actor), and yet it still hasn't seen the finish line?
First things first though:
Hush Little Baby is about Neelam's emotional discovery of being pregnant and preparing a romantic meal for her husband, Ajay. But what should be an evening of love, romance and musing over the future of their unborn baby, takes a turn for the unexpected.
I didn't plan to publish the poster for Hush Little Baby at this moment in time. However not writing anything on its third year would have added to the heavy heart I've felt for a while, and this post, here, is to egg it on to the finish line, so I can finally crack it, crack on and whip my other projects out.
That would be 'Lifeline' – I've given myself 6 months & then on to producing my 3rd short, 'A Woman's Voice,' to help eventually sell my eponymously named, feature length. I live in HUGE hope & faith. Truly!
As many a rookie filmmaker/creative will know, it's a tough nut when you're on a no or lo-budget and must lean on others to fulfil your vision. Naturally, film is a team effort.
At each stage of postproduction (tech is my worse nightmare), I squeezed out every ounce of polite patience waiting for the respective contributor to fulfil their part. But paid work, business trips or family (including a new born bambino) would repeatedly crop up.
I'd breathe a sigh of relief when the project part was delivered, and then 'spit out my dummy' inside, when it was put back into the cot (all puns intended).
Let me be clear, 'all the above' understandably come first, there's no blame, just a filmmaker's mass frustration ? about wanting to progress to the next level.
So what do you do?
?- You either stay in your comfort zone, allow another few seasons to pass you by, and grow another few grey hairs.
?- give up on seeing it finished as you can't afford to pay the professionals, and wither away as you've let your dream die.
?- ORRRRR grab the 'chicken' by its wings, grow it into an eaglet and teach it how to fly – which in simple terms means 'grow a pair and do it yourself.'
And so, for the last year or so, in between holding down a day job and inching forward my other film projects, the semi-grown eagle has been grappling with and conquering film editing, colour grading, graphic design (took me ages to do the poster) and since the last few days, I've been learning some tricky Vfx ..otherwise I'm pretty certain I'll still be waiting come Xmas for it.
I just never, ever, ever, ever want to go through this experience again and I've only everything to gain right?
And this is the positive spin, I've grown a pair…of wings…and am doing it myself! A comfort zone, I'd never thought I'd transcend.
It's a daily grind to keep spinning it, and I'm still a couple of goal posts from the finish line, but thankfully, I think, I feel, I believe I can…fly!
Wish me luck!! ❤️