Warm Kale, Fake Bacon, Mushrooms, Peas and Potato Salad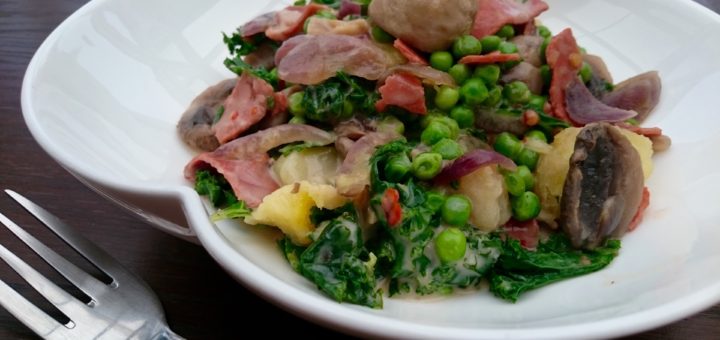 This is a great meal after a hearty workout, whether for lunch or a healthy-ish dinner. If you're not a fan of soy meat, you could always replace the fake bacon with Portobello mushrooms. Of course meat lovers, if you're reading this, you may want to replace it with the real deal, but could you possibly ensure it's free-range? Happy, healthy pigs who roam freely mean a healthier version of you…before the poor darlings meet the chopping block.
Serves 2-3 depending on your appetite.
Ingredients
2 medium potatoes
3/4 cup of frozen peas
One red onion, sliced
2 cups of mushrooms, slicked thick
Two generous handfuls of kale, stalks removed
4 slices of fake bacon
(you can buy from most major supermarkets these days, although not all brands are vegan)
1 1/2 tbsp rapeseed or virgin olive oil
Quick n' easy Mayo Dressing
6 tbsp egg-free mayo
4 tbsp dairy-free milk
(I've used coconut or oat milk in the past. I'm guessing most types will work)
3 1/2 tbsp sweet thai chilli sauce
Dashes of Tabasco sauce for an extra chilli kick
(I add about 20 for an on fire flavour)
Salt n' pepper to your liking
Method
In a saucepan, place washed potatoes and add boiling water until they're generously covered. Boil them until tender. Drain water and set aside to cool.
In another saucepan, add boiling water and chuck in frozen peas. Boil until soft on a medium/high heat. Drain peas and set aside.
In a frying pan, heat 1 tbsp of oil. Swirl oil around so it coats the pan. Add sliced red onion. Sauté on high heat for about 2 minutes or until onion starts to soften and brown. Keep stirring.
Add in mushrooms. Sprinkle with salt to help mushrooms release water. Sauté until they begin to soften and/or brown and water evaporates. (If you overcrowd the pan they may leave a lot of water, which you'll have to drain out).
Add kale. Stir until it wilts. Pour mixture into a salad bowl.
Peel potatoes when cool enough. Chop and add to the salad bowl, followed by the cooked peas.
For the dressing, in a small bowl, whisk in egg-free mayo, dairy-free milk, sweet thai chilli sauce (and Tabasco if you want that extra kick, whoop whoop).
In the same frying pan, add ½ tbsp oil and heat. Add the fake bacon and cook for 1-2 minutes either side, on a medium/high heat. I prefer slightly longer than the pack recommendations. Place on kitchen paper and soak up any excess oil. Once cool, cut into small rectangle strips. Add to salad bowl.
Add dressing to the bowl and toss the salad thoroughly.
Add salt and pepper to your liking.